Obey
So many have asked me about the
Obey
shirts I wear. "What does Obey mean? It looks out there if you asked me. What does the propaganda mean? Is it Christian? What kind of propaganda is it?"
The designs make one think. Some don't like to think, they would rather have someone tell them what and how to think.
Shepard Fairey is one of the artists behind Obey. His work is amazing!
This might help explain...
Other links to check out...
Swindle Magazine
The Giant
Obey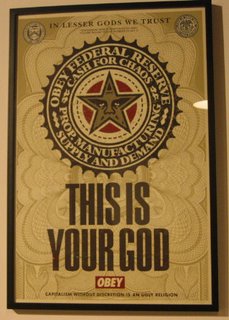 Click on the photo to get a closer look.
What do you think?