New Ear Candy!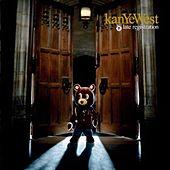 Kanye West
might be full of himself, but after you hear his new release
Late Registration
, you might see how he could be.
Read review
.
Death Cab For Cutie
Plans
is a really good record. If you haven't heard these guys, get past the name, and give it a gander.
If you get a chance to check out the
Robbie Seay Band
you will be glad that you did. Robbie Seay is a brother to Brian Seay, one of the Pastors at
ikon
where I lead music for a tweaked group of college students, and
Shaun Groves
road manager.